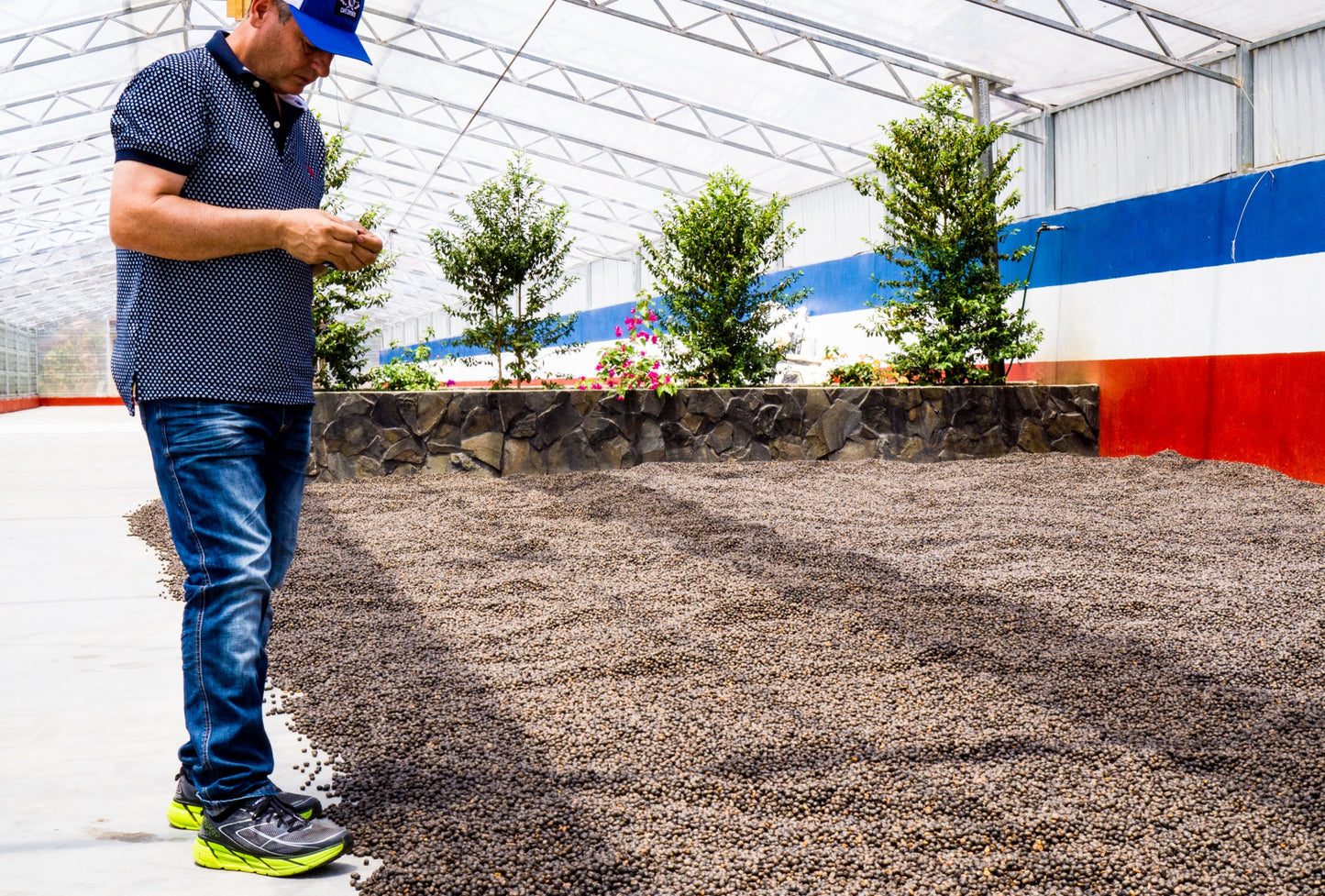 As Padre's Director of Coffee Fay and I set off on our origin trip to Costa Rica, we were especially excited to visit one farm - Las Lajas. We've been proudly showcasing coffees from Las Lajas for many years, the most notable being the Las Lajas Cumbres de Poas Black Honey - deliciously sweet, distinctive and testament to the commitment and complexity involved in producing such high-quality coffee. Needless to say, it was very special to meet the producers of our most enjoyed and admired Costa Rican coffees.
Coffee from Las Lajas triggers an extraordinary memory for me as the first fruit flavour I discovered in a coffee was from a Yellow Honey Caturra lot from that very farm - I vividly recall it being incredibly sweet, clean and delicious. You can read more about my first experience with Las Lajs in the blog post Aeropress and Blueberry Waterfalls. Embarking on this origin trip, I was definitely chasing that familiar blueberry flavour but what I discovered at Finca Las Lajas was so much more!
Oscar and Francisca Chacon are the power couple behind Finca Las Lajas. One of the first Micro Mills in Costa Rica, they not only produce some of Costa Rica's best coffee, but they're passionate and humble. They greeted us at the front door with big smiles and a warmth that can't be described with words. Within minutes of being there, we made our way into their cupping lab and were treated to delicious SL-28 filter brew through Chemex alongside beautiful homemade cakes.
Innovators and pioneers, Oscar and Francisca have faced some tough hurdles, and by far, one of the hardest became the most rewarding. On the 8th of February 2008, the region experienced a massive earthquake that produced multiple landslides - the closest being 21 kilometres from their farm. These landslides resulted in a total shut down of water in the area, which posed a serious dilemma for the imminent harvesting of coffee cherries. With extremely limited access to water, and washed processing out of the question, the local community and their families were depending on Oscar and Francisca to find a way to process the cherries.
Francisca remembered reading about coffee processing in Ethiopia and so, an idea was sparked. To save the harvest, they were going to take a considerable risk – something that no-one in Costa Rica had done before and something that would challenge the Costa Rican coffee community - process their coffee naturally. At that time, there was a negative stigma associated with the practice of "honey processing" coffee, and natural processing was viewed in the same light. Once Oscar and Francisca succeeded in processing their coffee naturally however, they experienced difficulties getting the coffee community to accept the change. This in turn, made selling the coffee extremely hard.
Luckily, at a fundraising event for the gold citizens affected by the earthquakes, they were asked to kindly donate some coffee that caught the attention of Andrew from Café Imports. Andrew eventually made his way to Oscar and Francisca's farm to cup some of their naturally processed lots and loved it so much he bought ten bags. Since that day, Cafe Imports and Las Lajas have enjoyed a longstanding partnership, and it has paved the way for other producers to experiment and push the boundaries of coffee processing within Costa Rica. Francisca added that "it wasn't the Exporter's choice to sell natural coffee, it was the end user, the end buyers that demanded it".
Following introductions, Oscar and Francine took us on a tour through the Las Lajas farm. Interestingly, they were trialling a Silica-based liquid product that once sprayed onto their trees, worked as a form of sunscreen for the plants. Plants are able to absorb essential components through their leaves; this process is called "Foliar Feeding" and is beneficial for supplementing further nutrients to the plant. With the first heavy rain, the silica washes off the leaves, enriching the soil. Some of the key benefits include the ability to endure climate changes from remarkably hot days to chilly nights, increasing resilience through periods of drought and increase resistance to pathogens and pests. Such a simple concept - sunscreen for coffee! It was inspiring to see just how innovative coffee producers have grown, to not only enhance crop quality but to sustain crop longevity.
As we walked around the farm, it was clear to see the Agroforestry system they had in place. The term Agroforestry refers to the practice of area management by planting different trees and shrubs around crops. This practice is beneficial for improving yields, increasing soil quality, reduced erosion, and increasing biodiversity. We could see Plantain and Banana trees scattered amongst the coffee trees - these present shade, nutrients for surrounding plants, including potassium, phosphorus and magnesium. Dead leaves produce mulch, and some producers will sell the fruit as a second income to support coffee farming. In many coffee producing countries, Producers have adopted this way of "Agroforestry" farming and its usually the simple yet complex banana tree that plays a significant role in aiding and improving coffee quality.
Once back at the Micro Mill, we cupped two rounds of that familiar Las Lajas yellow honey, as well as some red and black honey coffees. As the peach sunset fell upon Las Lajas, Fay, Vanessa and I reflected on our incredible visit, and how surreal it was to witness their successful farm despite all the challenges they have faced. As I recall Francisca saying "Myself and Oscar were far too stubborn to give up on our dreams".