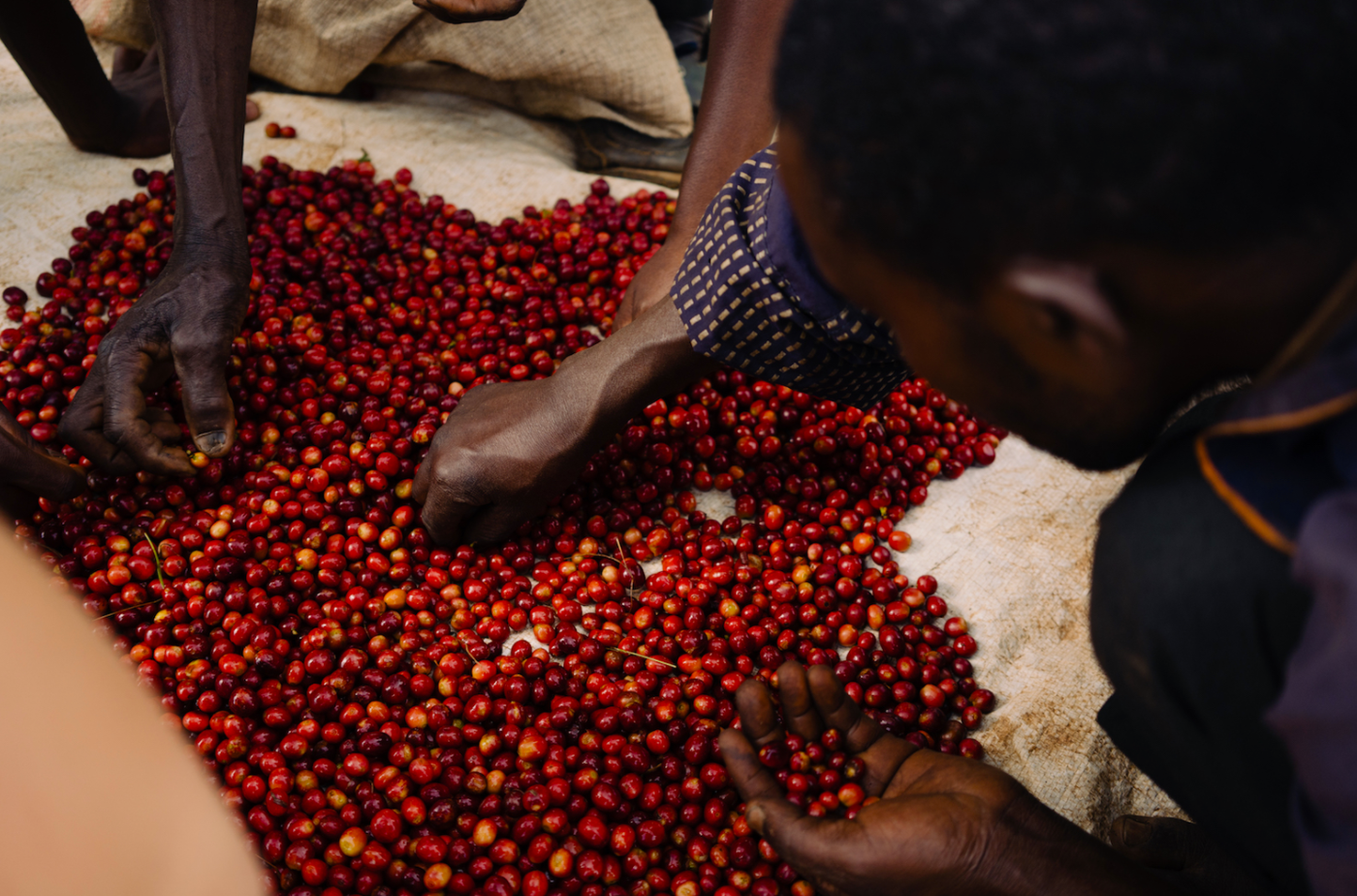 Conversations introduce the opportunity to create bonds, which turn casual relationships into friendships, and ultimately generate connections that grow and sustain communities.
With everything that's been going on globally, it's made me think about what the crucial things in life are - family, friends and, ultimately, the health and the well-being of all. I've wanted to talk about the situation, but I haven't known where to start, or even if I should start. Would I just be adding to the noise? There are so many strong opinions flying around, and I guess the thing I'd personally like to focus on is the positive around me, and how our coffee community in Melbourne is adapting to keep afloat in these hard and uncertain times. I've decided to spotlight my good friends Ruby and Nez of Tanaka (formerly known as Bloom Coffee Bar) and also talk about an exciting project I've been involved with at work - Good Coffee Doing Good.
The Bloom behind Tanaka
The first time I met Ruby and Nez was in early 2019, on a Monday afternoon at Padre Coffee's Brunswick East cafe. I was hosting a cupping, showcasing our range of single-origins at the time. It was clear that our shared interest was coffee; however, the spark of a special new connection was taking place right before our eyes. We spoke about coffee, their journey in the hospitality industry thus far and Tennyson, which was their new cafe venture at the time. We all lit up as soon as the conversation turned to the topic of community. It was clear to see the passion we shared for coffee, for food culture and for the importance of building a community around shared core principles and values. Education, sustainability, traceability - all these topics simmered in a pot to deliver an amazing interaction, from start to finish.
Forward to 2020, and a lot has changed. Tennyson didn't go to plan, but Ruby and Nez found a little cafe on Rathdowne St in Carlton to make their own. Continuing to operate as Bloom Coffee Bar for a few months, they quickly embedded themselves in the local community. While also, endeavouring to provide beef, eggs and vegetables from Nez's family farm in Gippsland to use in-house - channelling the farm to plate dream. When COVID-19 hit, and the waves of panic buying started, they promptly responded to the need for fresh produce and cold goods, as supermarkets struggled with supply. Along with these changes came a name change, and so Tanaka was born.
This shift turned a page and enabled them to serve the community with groceries instead of avocado on toast, and also lead to a path of donating fruit and vegetables to families in need. This direction has expanded to Tanaka initiating a community food hub, in hopes of keeping the generosity cycle moving forward. In donating groceries, time and effort to cook, package and distribute community meals, Ruby and Nez embody those core values we had spoken about a year prior.
I am a huge advocate for buying local produce and supporting local businesses - especially small businesses. Currently, in Melbourne, cafes and restaurants are restricted to take-away trade, and - like Tanaka - many other small businesses have pivoted towards grocery and retail items. It's been amazing to see how adaptable and flexible these businesses have been, and how the operators have taken it all in their stride. Furthermore, it's been wonderful to engage with customers who are buying coffee for home for the first time, or taking the opportunity to improve their home coffee set-up. There is an abundance of brew methods for the home brewer - whether you're after that heavy, syrupy hit of espresso or stovetop, all the way through to a delicate clear filter brew or robust, opaque plunger coffee. Whether you're a coffee enthusiast or caffeine extremist - there is a brew method out there for everyone, that helps extract the desired flavour, strength and texture your palette pleads for every morning.
Before I jump into an easy recipe for what delicious coffee I've been enjoying (to help your home brewing experience), I want to talk a little bit about an exciting project I'm proud to have been involved with at Padre Coffee: Good Coffee Doing Good.
Padre Coffee & Long Miles Coffee Project = Good Coffee Doing Good
Good Coffee Doing Good. Such a simple name, yet it represents endless possibilities.
The Good Coffee Doing Good program is a platform to talk about coffee through the lens of people and community - sparked by Padre's Community Manager and all-round legend Bessie Marks. This spark caught flame quickly, and soon everyone was eager to get involved.
We know the importance of building lasting and meaningful relationships with each other, our customers, suppliers, peers and partners, and we know that nurturing human connection produces better outcomes for everyone involved. Good Coffee Doing Good aims to not only create recognition of the good work our origin partners do, but to give back further, support and foster our communities both local and global.
In terms of coffee supply, that means traceability, ethical business practices and sustainability at every step in the supply chain. From enrichment of the communities in which our partners grow and process the coffee. Through to the home brewer feeling good about the coffee they're drinking and the support and care with which we nurture our wholesale partners.
We can't wait to bring you some super delicious coffees, highlight unique stories and support our friends all over the world doing incredibly good things.
For the first GCDG coffee, we've partnered with Long Miles Coffee in Burundi to support Trees for Kibira, a reforestation project that aims to protect the Burundian coffee communities from environmental threat and in turn, the livelihoods of the farming families. We're giving back $2 from every 250g of the Burundi Nini sold online and in our stores directly to Trees for Kibira.
This coffee is so special, for reasons beyond just flavour. The traceability and connection to Burundi feels real, and without a doubt in my mind, I genuinely feel like I'm doing good by supporting Padre Coffee to support Long Miles and Trees for Kibira.
Long Miles Burundi Nini Pourover Recipe
Blackberry, Peach, Mango, Vanilla, Cocoa Nibs with a Cola finish.
2 Cup Pour-Over Serving - SOW juicy and complex! SOW much favour!
Dose - 26g
Yield - 400g
Time - 3:40 min
Ratio - 1:15.5
Temp - 98 degrees
Grind - 32 clicks on a Comandante
Bloom - 50g, 50 seconds
Preparation
Glide down the inside seam of the filter paper with your hands, then place the filter paper inside of the filter cone. You want it sitting snug along the sides, which is pretty easy to achieve with these filters.
Place the pourover on top of your server and rinse the paper filter with hot water. I usually hold one side down, from the inside, to keep it in place; once you start rinsing the filter, it should stick towards the sides. This will clean any papery taste from the filter and heat the server at the same time!
Discard the water from the server, then place it on top of your scale and tare it.
Add the ground coffee to your pourover, giving it a gentle shake to level the grounds, sit it on top of your server and tare the scale again. Now let's rock and roll!
Method
00:00
Start your timer, pour 50 grams of water onto your bed of coffee, ensuring all the dry grounds are completely saturated. You can achieve this by either spinning the saturated grounds in a circular motion or using a bamboo paddle to achieve the same effect. Be careful not to over agitate - remember we only want to saturate the dry coffee. This part of the process is called the "bloom" and it prepares your coffee for the rest of the brewing process.
00:50
In a slow and circular motion, pour 150 grams of water slowly until you reach the one-minute mark, concentrating your pour in the middle of your brew.
02:00
In a slow circular motion pour another 200 grams of water until you reach 400 grams.
03:40
Once the brew reduces down to a drip, remove and discard the filter. Swirl it around and smell the warm, desert-like aroma of blackberry, peach and panela.
Note
If you find your time is noticeably slower it's a good indication that your grind size is too fine. If you brew time is really fast, it's a good indication your grind size is too coarse and it means you need to adjust your grind size finer to find the suitable size for this recipe.
Swirl it, smell it, pour it, enjoy it! 👌🏽
Find out more
During these uncertain times, the one thing that keeps me motivated is our driven coffee community, and the power we have to strengthen our community.
If you're in Carlton in Melbourne, pop into Tanaka for a good coffee and laugh. Check out Padre's blog post and the Long Miles Coffee Project website to learn more about Good Coffee Doing Good.
Thanks for reading, and keep well! ✌🏽