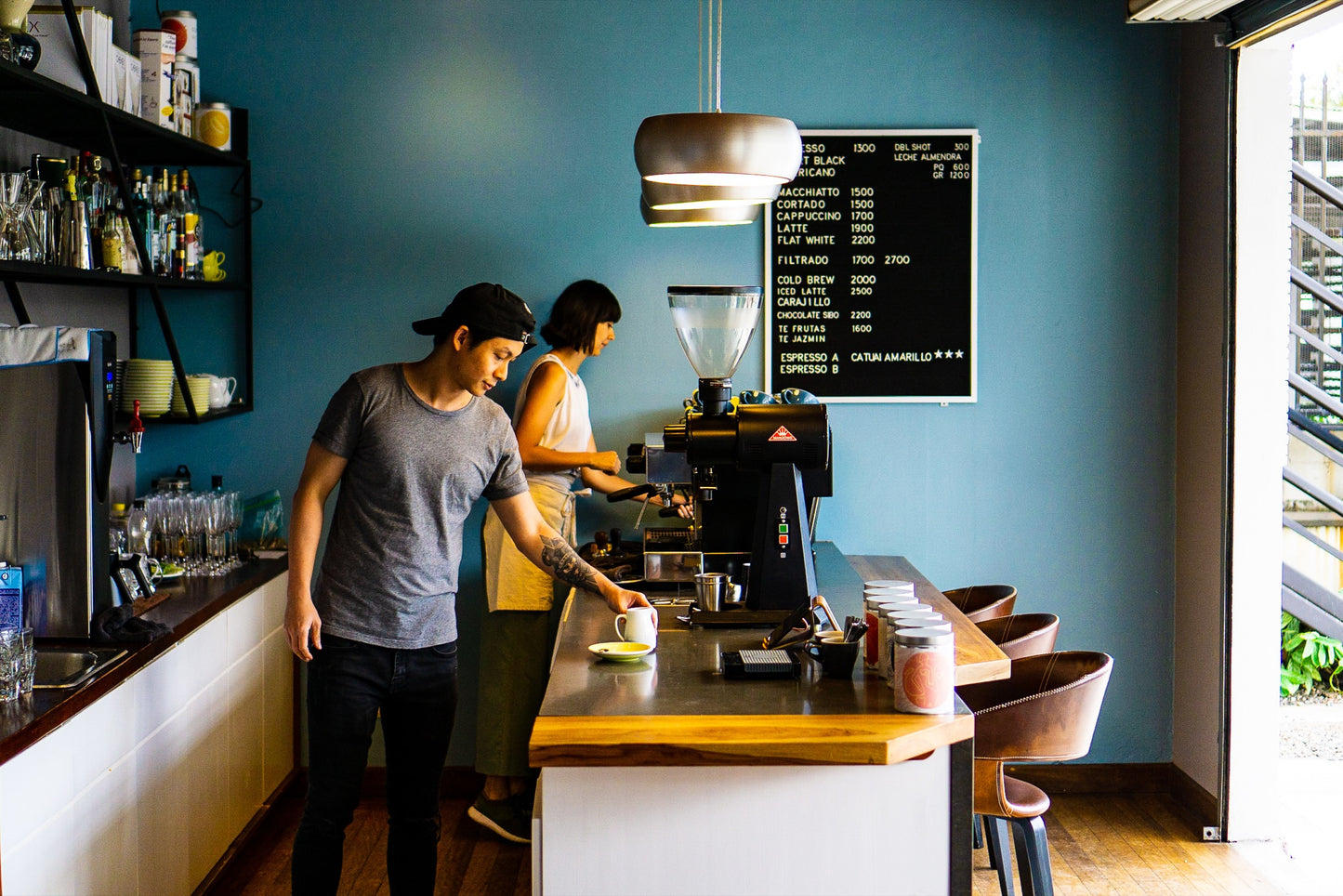 With only a few free days to explore the city of San José, Padre's Director of Coffee Fay, Noosa's Head Roaster Vanessa and myself made the most of the limited time we had and squeezed in a few cafes along the way. Cafe Franco, Under Ground Brew Cafe and Cafe La Mancha, were the cafes we visited. We discovered two of these fantastic cafes through Luis Arocha, one of our hosts at OXCART Coffee. He led us to his two local favourites - Franco and Under Ground Brew Cafe. The third we found by doing a Google search for "Specialty Coffee Shops in San José - Costa Rica" and to my surprise, yielded great results. All three cafes were different and unique in their own regard. With an unexpected thriving coffee community in San José, my cafe experience left me with some unforgettable memories.
Franco
Besides the facade of the beautiful building, the first details that caught my eye was a La Mazocco coffee machine, an EK43 and a Mythos grinder on a stunning coffee bar. I got a strong sense of familiarity, and it excited me! The jolt of the EK43 as it switched on, anticipating the sound of coffee splashing and sliding down the sides of the hopper, before reaching the crushing burrs. The smell of that coffee surrounding the grinder creates its very own atmosphere that draws you into its space.
Franco was buzzing with people, music, food, drinks, what more could you ask for in a cafe! There were pockets of spaces in the cafe that anchored different aromas, the front of the cafe pulled you in with the rich smell of coffee. We made our way through the cafe, and to the left where the kitchen was, a storm of fragrant aromas pulsed throughout the cafe. To the right, a beautiful pop of colour as a Floris gently added another layer of vivid floras into the air. By the time we made it to the back of the cafe, my first few minutes was an impressive experience so far, and it was only going to get better.
In Melbourne and many places around the world, we have the luxury of enjoying various coffees from diverse countries, each displaying unique characteristics from their particular terroir. In Costa Rica, we had one origin on the menu, Costa Rican coffee! That may not sound exciting to you, but to me, it was amazing to be able to try such a plethora of Costa Rican coffees all in the one session. Franco had four different Costa Rican choices on the menu, fresh and vibrant coffee I might add.
We were drinking a Kawih Maureen Natural by Oscar Jiménez from the Tarrazú region. This coffee was brewed two ways, by V60 and through Chemex, and wow it was good! Super clean, well balanced and it tasted of sweet cascara with a cherry vibrancy to it, very impressive to say the least! Everything about this experience made it memorable. My favourite Amy Winehouse song Valarie started to play as I began to drink the coffee. Both the V60 and Chemex brews were fantastic, and I was served the most incredible Fish Tacos for lunch.
SOW is a coffee blog, so I won't harp on too much about the food, but every element on that plate was divine. Fresh lightly battered fish with the acidity of the salsa exploding like fireworks on my tongue. All held in place by warm flatbread that made devouring every element in one mouthful so simple. Fay and I bought two bags of their coffee, as they had four different Costa Rican coffees options. The price started at $6000 Colón or $14.00 AUS with the highest being $8000 Colón, equivalent to $18.77 AUS dollars. This coffee was worth every dollar, not only was it delicious, but I fell in love with the beautiful packaging depicting a beautiful sunrise that pays homage to the Producers and lands the coffee is sourced from.
Underground Brew Cafe
The second cafe Lucho took us to was Under Ground Brew Cafe. A real hidden gem! We almost walked straight past this spot as there was no signage out the front, except for a small sticker on one of the yellow bars. A buzzer to request access through the yellow steel gate out the front. Inside there were studios/recording rooms, giving the space a real creative musical feel. The axis of all these rooms was Under Ground Brew Cafe, tucked away in a small seating area with the brew bar the centre of the space and the seating surrounding it. This secluded hip brew bar took me by surprise. There, we met barista Juan García as he charismatically catered to everyone's caffeine needs.
To my surprise, the first thing I noticed was the awesome beats coming from a Marshall speaker on the back counter, followed by a single group Ranchillio coffee machine. A Baratza Preciso grinder and a wall of manual brew gear on the back wall. This spot was so chill, and I loved that it was so close to Franco yet so different. With so much to share, I've decided to plunge into a few thoughts that stood out to me.
Once again, there was an epic line up of six Costa Rican coffees we could select. We chose a Full Honey Geisha from producer Max Salazar, located in the Western Valley 1,600 metres above sea level. The second was a Villa Sarchi Washed Anaerobic Processed coffee - Vista Al Valle (directly translates to - View to the Valley). Both coffees brewed manually, the Geisha brewed through a Chemex, and the Anaerobic Processed coffee brewed using a Vandola. At this point, I was like a kid in a candy store, trying to restrain my excitement. When Juan dosed and ground both coffees, the fragrance that came from that grinder pulled me closer, subtly whispering notes of soft candy, sherbert, berry fruit, and a hint of floral. I wouldn't have remembered these fragrances as clearly, but I was so excited I wrote them down in my notes!
As Juan brewed both coffees, I stood and watched as closely as I could. It was as if through the hot water streaming from the kettle was providing me with the warmth needed on a crisp winters day, but it wasn't! I'm just inquisitive, curious and a little nosy haha! The real reason was that Juan was brewing on a Central American brewing device called a Vandola. It looked very similar to a Chemex in shape. However, the cone at the top was smooth with no spout. The spout came from the middle of the device, while a hole in the handle side of the ceramic brewer behaved like a vacuum helping to promote the coffees suction down while brewing. It was very interesting to watch indeed. Upon drinking both coffees, my clear favourite was the Anaerobic Processed coffee. It contained such clarity with its flavour, it was super clean and juicy, and those whispering flavours were now on the surface on my tongue.
While we were drinking the Honey Geisha from Producer Max Salazar, Lucho started messaging him. By the end of their conversation, he had told us that the coffee was from his early 2018 harvest. It blew me away to think that the coffee had been over a year old and was able to maintain such high levels of complexity and acidity. This moment was unique to me, and it highlighted the importance of relationships between Producers and Green Bean Exporters. Max was a Producer Lucho knew and had worked with, having previously bought coffee from him and exported it overseas. The relationship was real, and it was awesome to see that this amazing coffee was also being roasted, brewed and enjoyed by speciality coffee lovers in Costa Rica. For a small room, Under Ground Brew Cafe certainly packed a punch, and the level of hospitality was awesome!
La Mancha
Cafe La Mancha was the last cafe we experience in San José. As we entered through the beautiful courtyard, my eyes were fixated on the architecture. A mixture of hanging plants added bursts of flourishing green that contrasted well against the overcast red brick walls. White alloy balustrades surrounding the second level of the courtyard added an elegant touch to the open space and tied in with the massive greek pillars.
Cafe La Mancha was situated in the corner of this beautiful space on the ground level, and naturally, we hovered towards it. You would think after a week of farm visits, multiple cuppings and immersing ourselves in coffee, we would have been all coffeed out (with all honesty, we pretty much were). This time around it was all about relaxation and taking in one last dose of Costa Rican Cafe Culture.
I can't remember much about the coffee we had at Café La Mancha. My palate and my brain were well and truly done. Instead, I took the opportunity to relax and focus my time on taking some pictures and unwinding with a tasty brew afterwards. There was just something about this space that inspired art and creativity. Maybe it was the beautiful photography hanging on the walls within the cafe or rich architecture outside. Either way, it encouraged me to take my camera out. Not only was our barista Oscar knowledgeable, hospitable and friendly, he also killed the V60 he made! I genuinely felt relaxed and happy in this space, and the lighting in the cafe made my day. I was stoked with the shots I took of Oscar and Café La Mancha.
Reflecting on the incredible experiences I had at these cafes, its clear to me now that I absorbed so much more than caffeine, flavour and knowledge. Furthermore, as someone in the coffee industry and as a coffee enthusiast, when we're able to consume our surroundings through our sensors. It delivers the experience more robust, and when we draw on that memory, it's as transparent as yesterday. San José has asked me for nothing yet has given me such incredible memories. PURA VIDA!!!