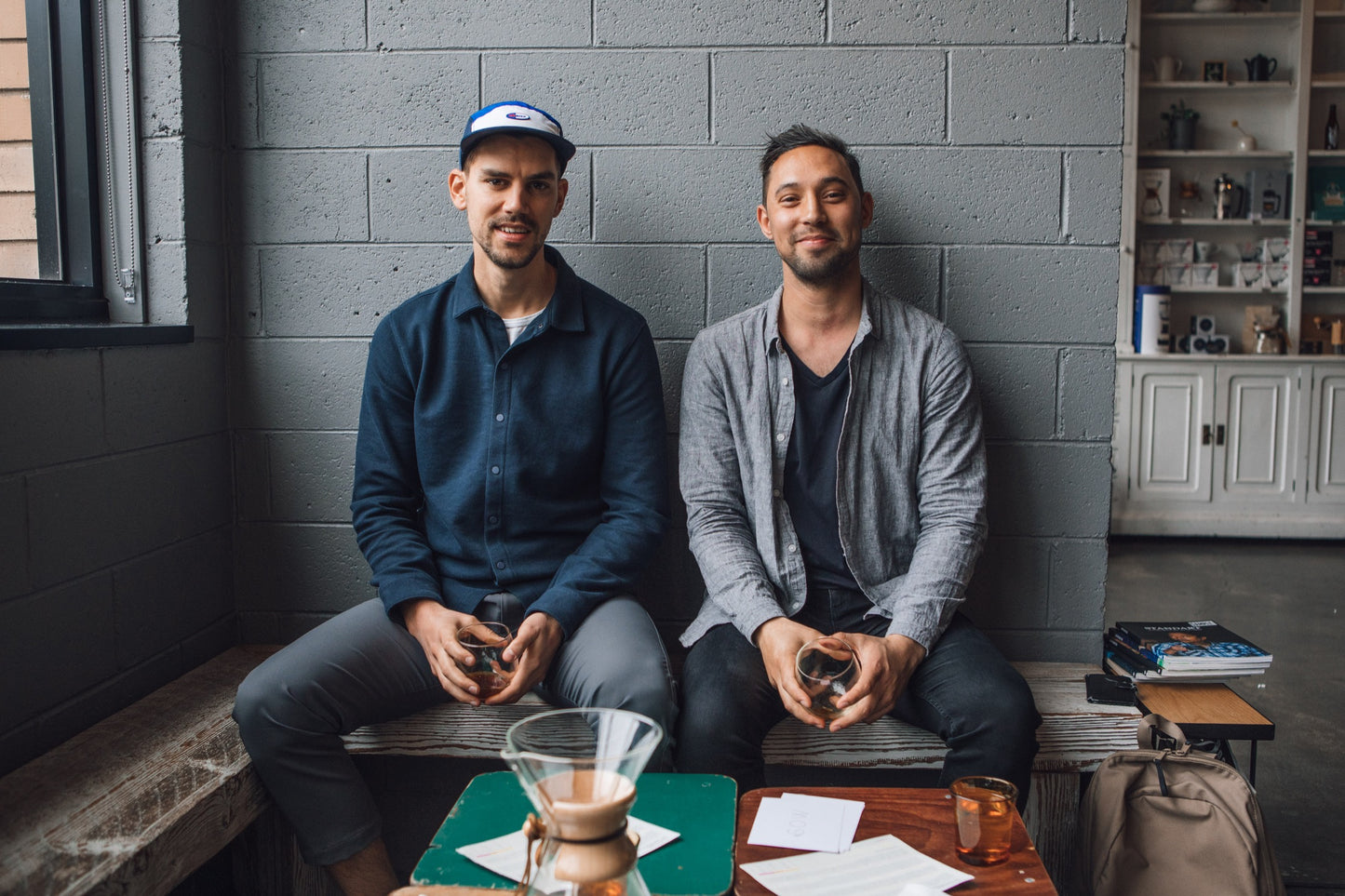 "I think one of the greatest things I'll take away from being exposed to such good coffee in Melbourne is being able to develop a further understanding of specialty coffee and having my palate exposed to such a range of great coffees." — Charlie Harmsen
The true value that coffee gives us is the opportunity to connect with one another, and I think this couldn't be more true for people like Charlie and myself. All the different cafes we've visited over the 9 months together during his stay in Melbourne, or the number of brews we've shared and coffees we've exchanged have all improved and strengthened our friendship.
About a year ago, Charlie started the first leg of his journey to Melbourne from The Netherlands. He had one ultimate goal: to learn as much as he could about Specialty Coffee and hopefully land a job in a café where he could gain hands-on experience and knowledge. I had seen Charlie post on Instagram about making his way to Melbourne during his layover in Malaysia. As any other coffee enthusiast would, I reached out to him and suggested we meet up for a coffee once he had settled into his accommodation. One week later, we met up at the Aunty Pegs brew bar in Collingwood for their weekly Saturday Cuppings.
It feels like yesterday we were being greeted by Pauly and looking forward to trying the interesting Rwandan coffees being showcased. I'm explaining the scene as this was the first time I had actually met Charlie after following each other on social media for the previous year. The cupping was awesome, as you would expect from the humble guy running it. We spent a few hours connecting over coffee and decided to have lunch at the Proud Mary's Café up the road. The morning flew by - as they do when conversation is good - and I think we both knew at that point that we were going to be coffee brothers - two crazy coffee enthusiasts; you probably know the feeling already!
Charlie worked at a company called Aither, as an HR Advisor. He wasn't successful in landing a coffee-related job, although he did apply at several coffee shops. Landing a job in Specialty Coffee wasn't straightforward, so he ultimately used his previous experience in HR to get a job at Aither. At the same time, living in a new city also brought new challenges.
"It's expensive and not easy to get a foot in the door at the specialty stores. Experience with high-volumes was however a must at all places...It's not easy landing your first job in specialty coffee. Networking and volunteering at the right places are crucial to getting a foot in the door. There is lots of competition and a short-term (6 to 12 month) visa creates a barrier for a company to invest in you. Find out for yourself how you'll add value to their business and make sure you communicate it concisely." — Charlie Harmsen
Networking was key for both Charlie and I. I had only been in Melbourne for a few months longer than Charlie, yet I felt like we were in the same boat: two coffee enthusiasts keen to drink some incredible coffee and visit amazing cafes. Socialising at coffee events became easier and easier as we made friends and developed a community of like-minded people. Bureaux Collective events, cuppings at roasteries, and fun coffee events like the Aeropress Champs are all amazing platforms for strengthening the connections and relationships between both coffee enthusiasts and coffee professionals.
I consider myself lucky to have formed friendships through social media, and I've witnessed how social media can play a huge role these days in helping to foster a community and bring people together. But in this game of social media it's important to remain real and portray a real presence in everything you post. There is, unfortunately, a lot of fake content on the internet and it's good to be a part of the group of real people developing real friendships.
In my opinion, it's coffee enthusiasts like Charlie who drive the market for specialty coffee all over the world. People who truly understand what has gone into producing a coffee - all the way from seed to cup - and why terms like "specialty" actually really do matter. People who aren't afraid of spending a few more dollars on a cup or bag of damn good coffee because they have the knowledge to understand why it costs – and should cost - that extra bit more. I feel like anyone who has ever been a humble coffee enthusiast can relate to the simple idea of wanting to know more about something that you're genuinely interested in and passionate about. It's uncontrollable, and to me, it's exactly the same as your tummy growling for some food. My mind wanders off naturally, curious about coffee, and the only way to stop it is through researching/feeding what's on my mind and ticking it off the list.
It was fitting to have this conversation at Aunty Peg's, being the place Charlie and I had first met up for coffee. It was really the only location to host this conversation. Charlie and I didn't touch on what coffees we were drinking in the video so I'd like to take the opportunity to briefly explain them here. At the time of filming, Aunty Peg's had an epic line-up of Nicaraguan coffees on their menu: an Orange Buenos Aires Honey Process, Yellow Buenos Aires Natural Processed and a Purple La Laguna 72 hour Anaerobic naturally processed coffee. I was drinking the Purple Buenos Aires, Caturra (melon, tropical, milk chocolate & floral) and Charlie was drinking the Orange Buenos Aires, Maracaturra (Orange blossom, honey, juicy). Both coffees were delicious but I actually got brew envy over Charlie's cup. The aroma was phenomenal! Special thanks to Kaden, Steve and Kurtis for the awesome hospitality, visiting Peg's is always a good idea!
Charlie Wade: What coffee are you brewing and really enjoying at the moment?
Charlie Harmsen: "I'm currently brewing a 'Blue Batak', a Typica from Sumatra (Toba Lake) roasted by Gardelli, and an SL28 from the Western Valley of Vulcan Azul in Costa Rica. Roasted by Bloomers Coffee."
I wanted Charlie to be the first person I featured on Sow's Coffee Conversations, because - to me - it's all about a drive for education and passion. And Charlie has both of those things in spades. I hope that more and more people become interested in coffee, and not just over the taste but the background of coffee, the people behind coffee and how the two come together to make this beautiful thing we all crave first thing in the morning. People like Charlie embody this passion and in my opinion drive the specialty coffee industry all over the world.
The following is the first of many Sow Coffee Conversations I will host on the blog. Hopefully, these will be an easy watch or something to listen to when you've got some free time to enjoy two friends talking about coffee and people. Stay tuned for more and follow Sow Coffee Project on Instagram to keep up to date with new drops, conversations and more. Thanks guys!!!