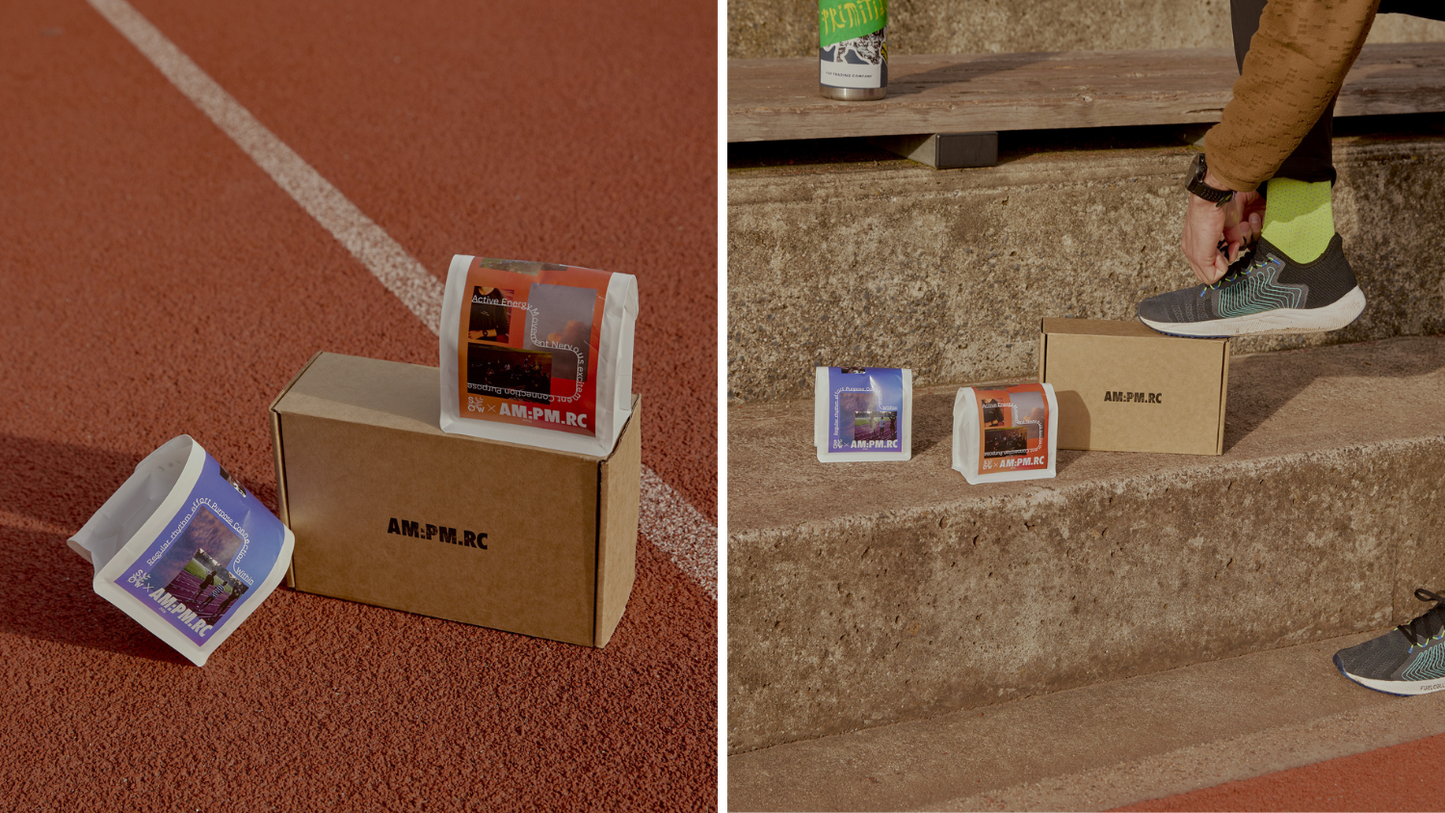 We're excited to launch our latest collaboration with AM:PM.RC - a pair of coffees to fuel your run, in the morning or at night. This beautifully presented set of coffees encapsulates the ethos of AM:PM.RC and celebrates their past seven years of building a community dedicated to supporting each other through running and beyond.
For anyone who's new here - and hopefully there are some of you who have found your way here through the collaboration or just generally through the AM:PM.RC community, I wanted to first share a little bit about myself and introduce Sow Coffee Project. My name is Charlie and I started Sow Coffee Project in mid 2018, with big dreams, an open heart and a drive to connect, learn and grow with the community around me.
I had built a community through social media, fostering relationships through a shared love of coffee and becoming friends with people from across the world in places like Poland, Canada and Japan. Many of these friends still form an important part of the support cloak that surrounds me today and - alongside the support from family and friends outside coffee - this community encourages me daily to take one step after the other, stay humble, stay hungry and keep growing.
Recently, Sow Coffee Project has blossomed, fuelled by my brave leap earlier this year away from a full time job in the coffee industry to focus 100% of my time and energy on Sow Coffee Project. Much of the last year has been dedicated to creating our coffee program, developing my roasting technique and launching our online store. It's been a busy year and I'm so proud of everything I've achieved so far.
Before I introduce AM:PM.RC and the collaboration, I'd like to share a bit about the genesis of this project and give a shoutout to Nez and Ruby at Tanaka Coffee and Grocer in Carlton. I owe a lot to these two special people, who have offered their unwavering support at this critical time in Sow's evolution.
A large part of ensuring that it was sustainable for me to focus on Sow full time, was Nez and Ruby's offer for Sow Coffee Project to feature as Tanaka's resident coffee partner. Our shared values have allowed the friendship and business partnership to blossom, and I have been proud to return the support to Nez and Ruby, by helping them serve the local communities in and around Carlton. They have built such a strong and loyal following in no small part to Ruby and Nez's community focussed approach and dedication to giving back, and I've been heartened to be welcomed into this warm and diverse community.
If you've ever met Nez and seen him in flow and on a roll, you've probably been blown away by his crystal clear vision and sense of purpose. It was this keen insight and drive that led Nez to start Tanaka Running Club, sparked by his passion for running and a tenacious mission to connect people through health, fitness and wellbeing of both body and mind. The club has created a platform for people to get together, with running as the catalyst, and has continued to grow in both members and in strength. Soon, Nez connected with the team at AM:PM.RC, and in hindsight these two groups were destined to collide.
AM:PM.RC is a diverse and creative running crew that is focused on creating a supportive space for its members through both running and imaginative pursuits. Founded in 2014, the group is centred around a motto of "Strength to Strength" and they believe that through connecting with and supporting each other, through hard work and commitment, the group can collectively and individually achieve their goals. They meet up both in the morning and in the evening, hence the moniker AM:PM.
Before too long and with aligned values, the two running crews started moving as one, and thus a new era between Tanaka and AM:PM.RC was born.
Recently, I was pleased to meet with Ben Clement and Matt Willocks, two pivotal members of AM:PM.RC. They're both inspiring humans and together form a good snapshot of the type of talent that is represented in AM:PM.RC. Ben is a visual artist who works with photography and film, exploring the human body and movement. Matt is the Community Programs Lead at lululemon and is focused on creating experiences and building relationships to bolster and enrich communities.
Together, we chose the coffees for the collaboration, with the coffee pairing drawing inspiration from the name AM:PM. We've brought a punchy Kenyan coffee together with a delicious Colombian decaf to fuel your run, whether in the morning or evening.
The Kenya Kianga AB boasts delicate floral notes, which you can pick up on the aroma of both the ground coffee and once it's brewed. Sweet pink grapefruit adds a sparkling acidity balanced with a pineapple sweetness that flaunts the signs of a great Kenyan coffee. With a round finish of rich cacao nibs, this coffee is so juicy and clean, and - in the memorable words of Ben and Matt - it "will make you run faster!"
The Colombia, Decaf de Cana, starts with a burst of purple plum, sweet, bitter and tart from the skin and flesh of the fruit. A soft raspberry flavour carries more sweetness through the cup, bringing balance and a pure aftertaste of toffee and cocoa brings a warm finish to the overall experience. This is not your average decaf for sure, and it's a coffee you can feel great about enjoying any time of the day.
When you've got amazing people around you driving a project towards a common goal, it's one of the sweetest rewards to see the group put different pieces of the puzzle together to make the project come to life. This was such a gratifying project to work on with Nez, Ben and Matt, and a true collaboration in every sense of the word.
Congratulations to everyone who has contributed their footsteps and heartbeats to the shared rhythm of AM:PM.RC, on being part of a creative, diverse and supportive collective! We look forward to seeing all that's to come, and we hope you enjoy this celebration of people, culture and - most importantly - community.
From Ben, Matt, Nez and Charlie x